Garbage & Recycling Pick Up Details
All household waste must be contained by an appropriate size garbage bag and securely tied.

The standard garbage bag size is up to 66 cm x 92 cm (26" x 36") when empty.
If containing bags of household waste in garbage cans, ensure that your garbage cans do not exceed 80L in size and weigh no more than 25kg when full.


If you find you occasionally need to place extra bags of household waste out for collection, you can purchase extra bag stickers for $2 each or a sheet of 10 stickers for $15. Contact us via phone or email to order stickers. 
Pioneer Disposal cannot accept any: appliances/furniture or other oversized items, ashes, building/demolition materials, car batteries, car parts, carcasses or animal parts, electronic waste (computers, printers, tv's, etc.) extra bags, gasoline, gypsum/drywall, medications/pharmaceuticals, oil and oil filters, paints, pesticides, pet waste, recyclables, scrap metals, tires, wood waste or yard waste as part of the weekly curbside garbage collection service. Many of these items are accepted at your local recycling depot, can be donated to local charity, can be broken down to appropriate size for collection or could be included for pickup in our weekly recycling collection service.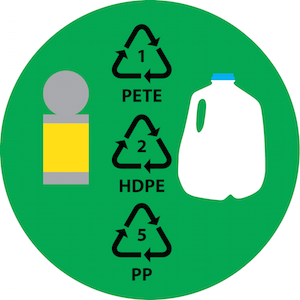 Items accepted as blue bag recycling:
recyclable paper (newspaper, magazines, flyers, etc.)
corrugated cardboard
boxboard (cereal, tissue paper boxes, etc.)
glass containers (bottles & jars)
metal cans (soup cans, pet food cans, etc.)
rigid plastic containers with plastics codes 1, 2 and 5
(milk jugs, soap bottles, etc.).
stretchy plastic film, such as bubble wrap, bread and plastic shopping bags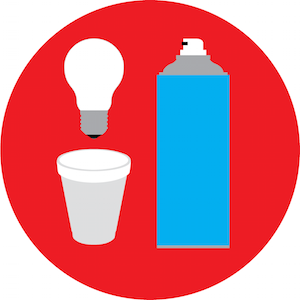 Items NOT accepted as blue bag recycling:
STYROFOAM
wax cardboard
gift wrap
oil containers
china
ceramics
light bulbs
paint & aerosol cans


Recyclables do not need to be sorted, but all recyclables must be securely contained in a transparent blue bag* as required for proper disposal. (4 bag limit weekly) Blue bags can be purchased at most grocery or building supply stores.
*Large amounts of cardboard and newspaper can be bundled with twine. Bundles must not exceed 23kg and may not be longer than 60cm (2ft) in any direction.